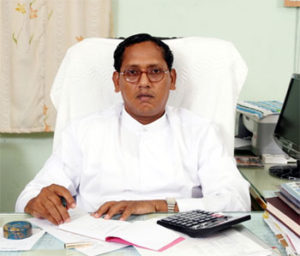 Child is the most precious gift parents receive and they desire to invest their best -love and care, time and resources- to make the child grow into a joyful and successful person. Character formation, along with acquiring knowledge and skills, is important to achieve this goal. Unlike most other educational institutions, Loyola Public School focuses on the character formation from day one, recognizing that the early years in a student's life are the most impressionable and that one learns values and virtues as a child. LPS takes the parental role seriously and the Jesuit management, with the support of the Faculty, aims to make each student a resourceful and committed citizen.
Obviously, more than being a mere duty, it is the responsibility of everyone in the family and at school and neighbourhood to make a student understand that good character is indispensible and that one's time spent on school-campus offers wonderful opportunities to acquires the basics of good character. As a classical saying described, "If wealth is lost, nothing is lost; if health is lost, something is lost; but if character is lost, everything is lost." Parents will realize the profound meaning and significance of these words and how difficult to keep a balance between these values in one's life. We should always remember that people respect us even when we lack wealth or good health, but a person without character is not respected in society.
We can say figuratively that a person of character develops upwards but a person without character slips downwards in life. A person of strong character goes on to make history while one without it is marred by history. Persons of virtuous character are the hope, solace, well-being, peace and inspiration for humankind; those without character cause trouble, worry and misery to others.
Loyola Public School insists more on values and character formation. At times it could be boring to talk about morals in the class or outside: however, we insist on this since a student's future largely depends on how one is moulded and what values one imbibed. Moreover, a person of strong character is always fearless. One need not be afraid of speaking boldly or facing people as he/she knows being honest and speaking truth will be recognized and appreciated. He/she is loved and respected by all and the genuine happiness will free one from mental tension which results in enjoying good health as well. A person with fine character will inspire many in his or her life. "The aim of Jesuit education is the formation of principled, value-oriented persons for others after the example of Jesus Christ".
Rev Fr U. Antony, S.J.
Principal & Treasurer
LPS Vision Statement:
The only person who is educated is the one who has learned how to learn and change – Carl Rogers